Restaurant Tables Guide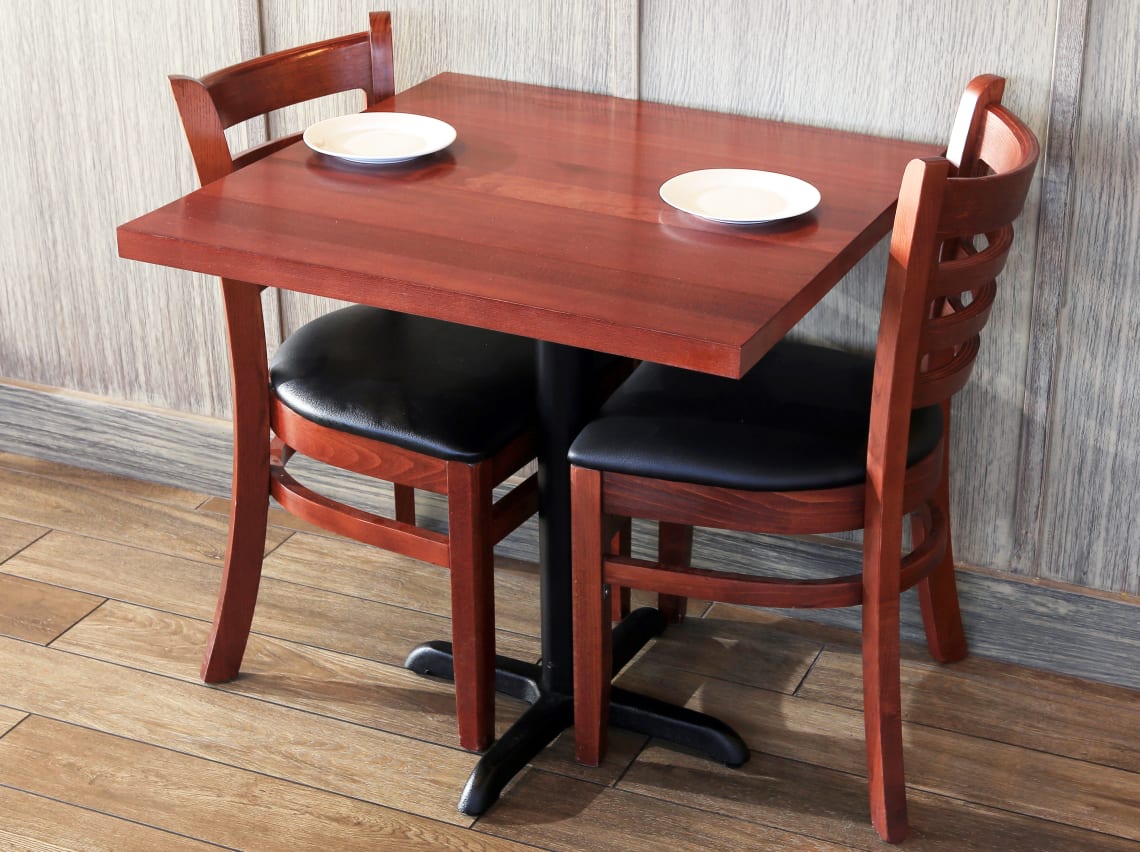 Choosing the right tables for your restaurant sounds a lot easier than it really is. Just ask any veteran restauranteur. When it comes to purchasing restaurant furniture, tables normally fall at the bottom of the shopping list. While restaurant seating may be one of the first things people notice and see at your restaurant, tables can also make or break the way your dining room looks and how guests view your space. They are usually the focus of a restaurant and can be the accent that determines the ambiance.
How to Choose the Right Tables for Your Venue?
Each restaurant has a different vibe, and each owner has a different idea on what they want their seating layout to look like. Venues have different requirements and design options. So, each table set-up design and layout need proper considerations and professional help.
Venue Size and Desired Seating Capacity
You may already have an idea of what type of restaurant table you like to have but do you have enough space to fit 10 or more of them in? While there is no thumb rule when it comes to selecting the right kind of tables, there are a few things you need to consider when ordering:
Selecting the right sized tables based on your available restaurant space.
Never compromise on quality of materials you opt for – they should meet commercial industry standards. Restaurants see a lot of traffic so sturdy and long-lasting tables are important.
The table surface should be large enough to accommodate the food you serve at your restaurant. For example, smaller table surfaces would work in a fast-food restaurant whereas a fine dining establishment would require a larger surface to accommodate the elaborate setting.
Materials selected for your table should be easy to clean, maintain, appealing and durable. Tables for outdoor settings should be weatherproof.
The standard height for a regular table can measure between 28" to 30" H. Bar tables stand at least 42" high.
Materials
A restaurant table's construction relies on a variety of materials. Some tables may have a holistic design whereas others use different designs and materials for the table top and table base. Below are some of the most used materials for designing restaurant tables: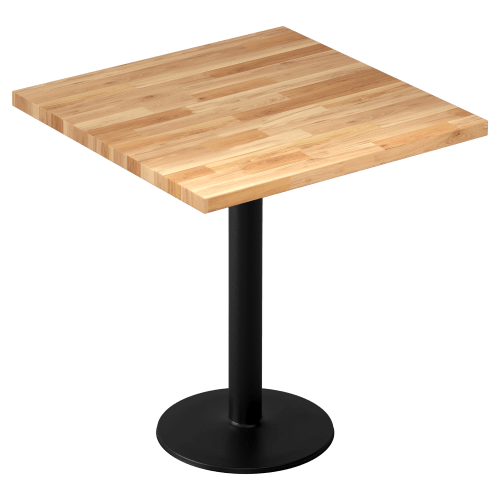 The most popular option for restaurant table tops, wood is a versatile material. Hardwood is commonly used for commercially built tables for its attractiveness, strength and longevity. More expensive than most other materials, wood table tops are used mainly in upscale restaurants.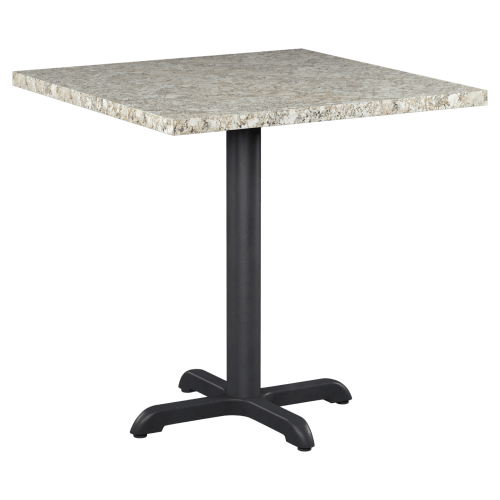 A laminate table top fits different budgets and styles. Very sturdy and durable laminates can be made to look like wood, stone, metal and more. They can also include various images (such as a restaurant logo) to be imprinted into the table as part of the design.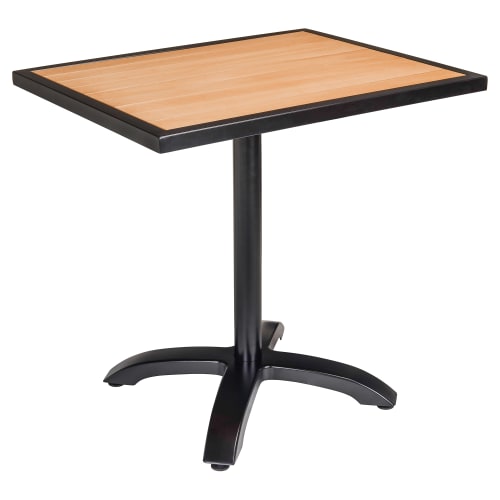 Made to resemble the organic look of teak wood, this material is lightweight, low maintenance, durable, easy to clean, weatherproof and less expensive. As such, there is an increasing demand for synthetic teak dining tables for both indoor and outdoor commercial spaces.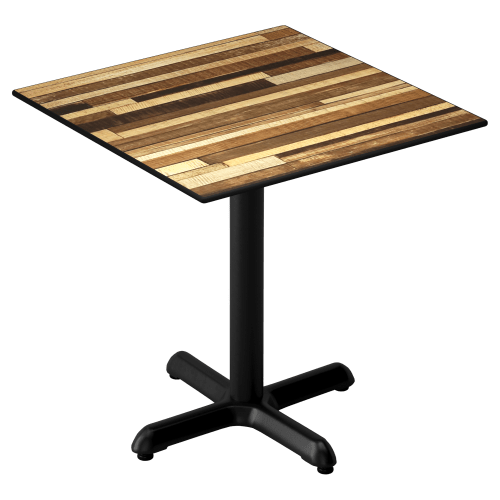 Highly durable, scracth and heat resistant, most resin tops can be used both indoors and outdoors and can be made in a vast selection of looks from wood to stone and even metal.
Styles and Shapes
Retaurant tables come in 3 standard shapes and the option of drop leaf. The shapeand size of the tables is determined by your design as well as your location's available space and even cuisine type. For example, an upscale romantic restaurant will opt mainly for square tables that accomodate couples or 4 people at most and they will simply place tables together for instances when larger parties may come in.
Round tables are used maily in addition to square and rectangular ones and reserved for larger parties of 5 or more diners. Rectangular tables are commonly found at cafes, diners and other casual locations. The crop leaf option turns square tables into round, allowing to accomodate larger parties without having to move tables around and can be found mainly in ethnic cuisines where families tend to dine together.
Now it's time to choose the style of the tables and while size and shape depend mainly on technical aspects, the style depends on the interior decor you chose for your restaurant. Whether it's fast food, classic diner or an urban steak house, will impact the style of tables you should get. We offer restaurant tables in a large array of styles including these 4 popular ones: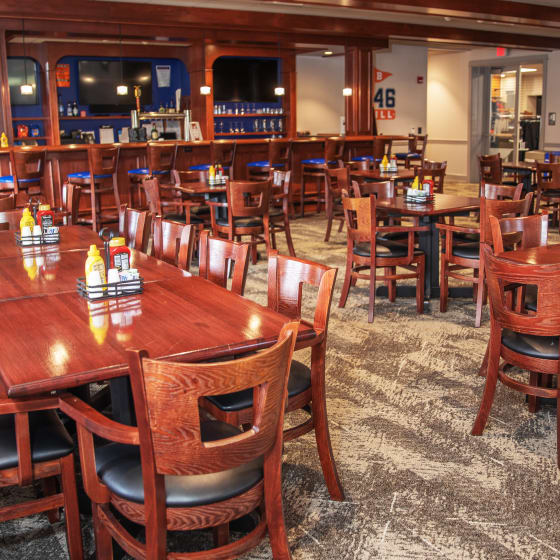 Upscale
Upscale restaurants pride themselves not in the quality of their food but also in providing customers with a beautiful and relaxing atmosphere in which to best enjoy the high-end cuisine. Solid wood table tops add to the richness on the interior especially when they come in a finish that perfectly matches the seating.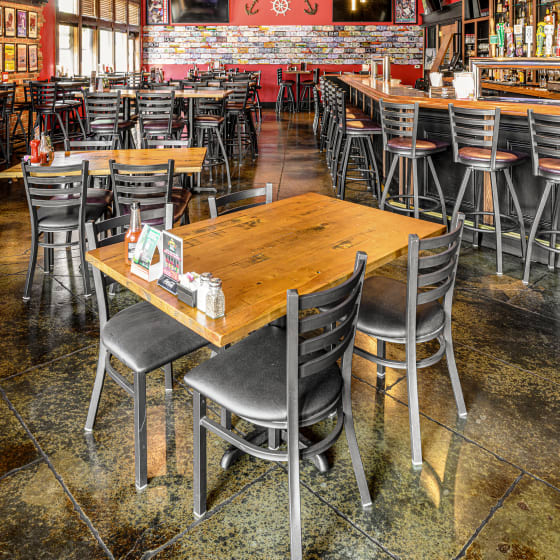 Industrial
The industrial look is characterised but the wood-metal combination and often with a distressed look. The weathered wood look and clear coated metal add a factory look with a modern urban touch. Achieving the right balance between a factory setting and a chic urban venue is easy with the right mix of industrial tables and chairs.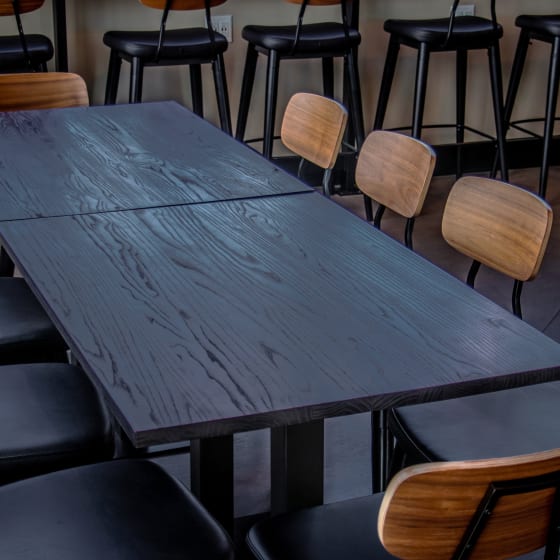 Communal
The small, local community revival has not past by restaurants and other gatherig hot-spots. Growing in popularity, communal dining is a great way to host large parties and maximize available seating as well as getting strangers to sit together for a meal at the end of which they might not be strangers anymore.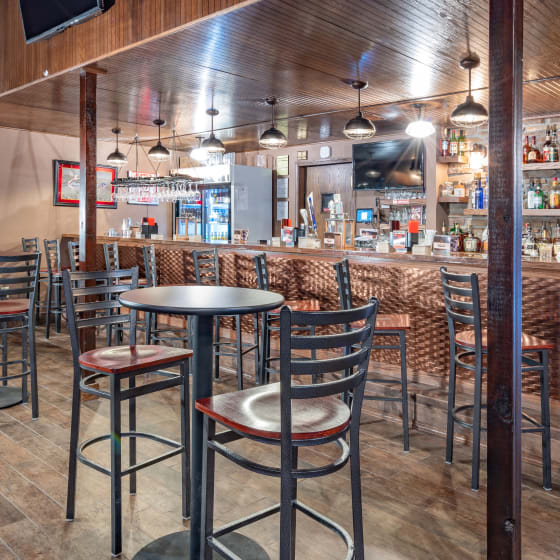 Bar Height
Bars are part of most restaurants and bar height tables are a staple in locations that offer light meals with a wider selection of alcoholic beverages. They are also a welcome addition to locations with small floor space as the mix of chairs and bar stools can help create theilluzion of a larger space.
Frequently Asked Questions
How Much Space Should be Between Restaurnat Tables?
When designing or refurbishing a restaurant layout, table spacing should be one of your first considerations. Although there are exceptions, the ideal spacing requirements between each table is at least 24" to 30" (60 to 80 cm) apart.
What Table Top Size do I Need?
It varies depending on a few factors but below are a few examples to give you some idea:
2 Person: 24" round; 24" x 24" square; 24" x 30" rectangular.
4 Persons: minimum sizes range from 30" x 30" square to 36" round and 24" x 48" rectangle.
6-8 Person: minimum sizes range from 42" x 42" square to 48" round and 30" x 60" rectangle.
*Note:
Since parties of 8 or more diners are less common we recommend a drop leaf table or combining several tables together as needs arise.