On the Links - Thunder Bay, ON
On the Links is a new virtual golf training simulator and sports bar. The sports bar has an indoor golf experience that allows golfers to virtually play dozens of the world's top courses. The Sports Bar is a family-friendly location that will be available to everyone for both golfers, or people who are interested in enjoying a drink. The interior has a trendy, modern look with hardwood flooring. The interior resembles a warehouse with a high ceiling and exposed ducts and factory style lights. There is also a swanky bar with a black counter and plenty of large screen televisions. They also serve craft brews and drinks, complimented by lounge snacks and local food.
Modern Sports Bar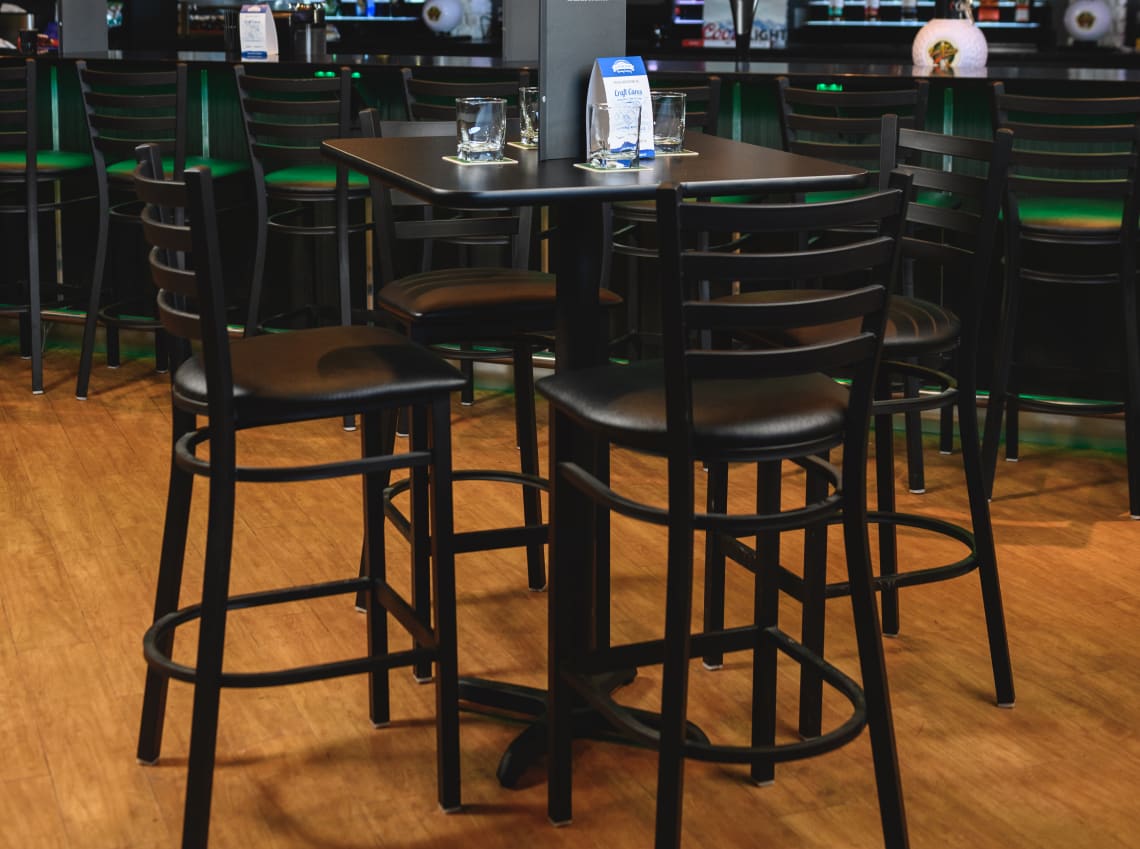 The owner of On the Links contacted Restaurant Furniture Canada to help furnish the sports bar. For seating he chose the popular ladder back metal bar stool in black frame finish with comfortable padded black seats in black vinyl upholstery. The black bar stools have a sleek look that was a perfect fit for the modern, industrial motif. It also matched the other furniture in the bar such as the tables and counter. They are also a nice contrast to the natural finish of the hardwood floors.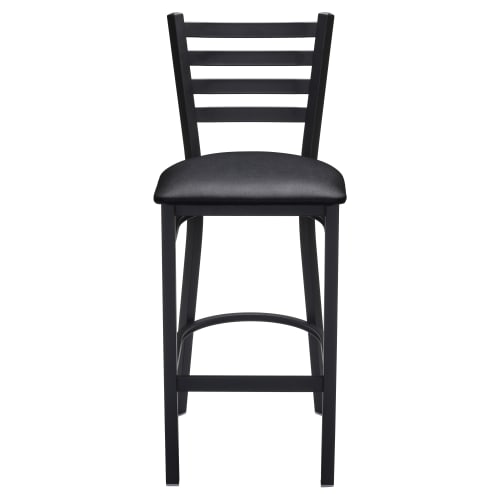 Extremely popular, these metal ladder back bar stools can fit many design styles. Use a black vinyl seat for a more modern, clean look or a rustic wood seat for an industrial-urban look.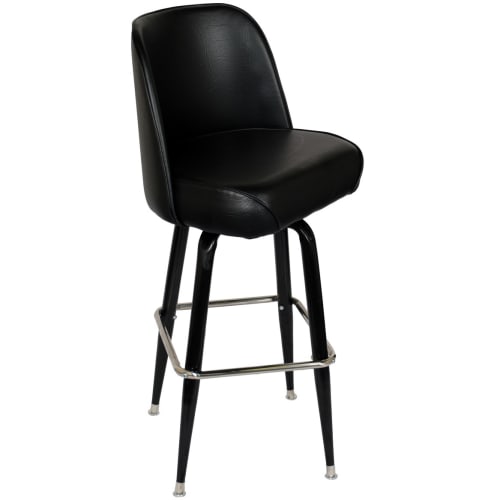 The Swivel Bucket Seat Bar Stool is a favorite choice for sports bars. Comes in black vinyl with various frame options these bar stools include a 360 swivel mechanism.
Perfectly Matched with Reversible Table Tops in Black
To go with the ladder back bar stools, Chris, the owner of On the Links chose reversible table tops in black and mahogany finish. He chose to use the black side of the table top to match the bar stools and the overall decor. The table tops also have a black t-mold edge which protects the table and gives it an upscale loo. Reversible table tops have a laminate finish which is popular with bars since they are stain resistant and easy to clean. X prong table bases in black powder coat finish were chosen to go with the table. The X prong bases are more popular than traditional table legs since the save leg room.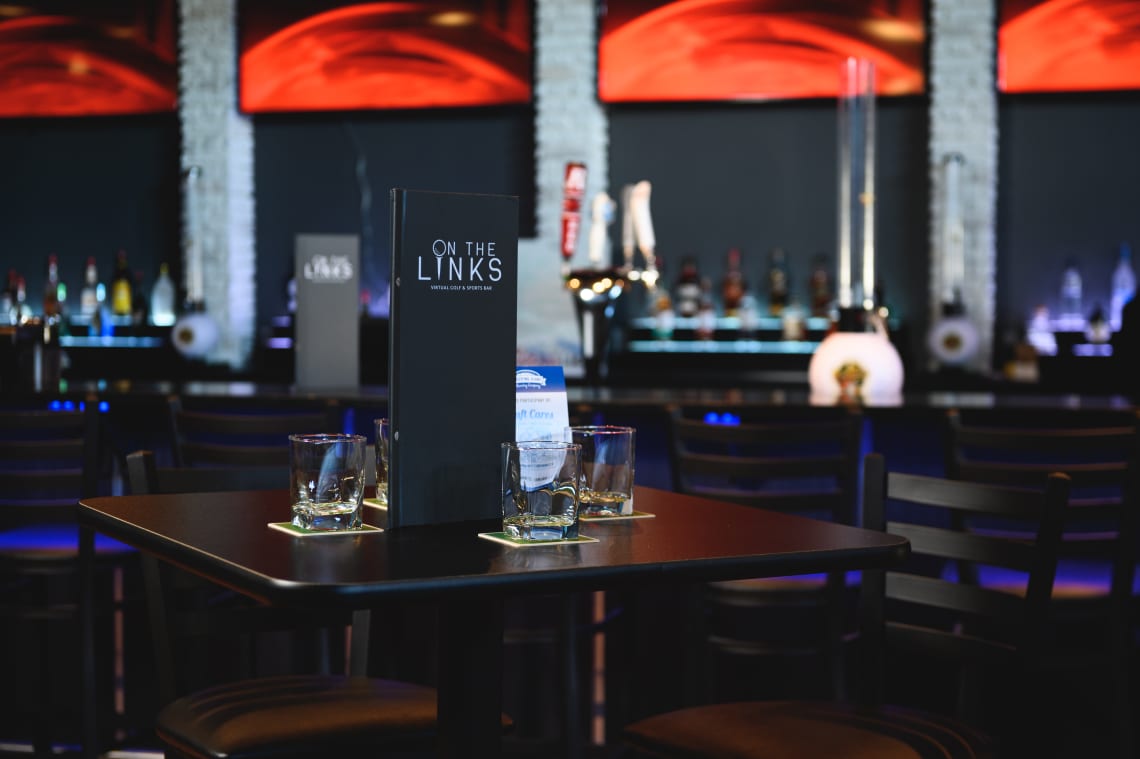 Completing the Look
For additional bar seating, he chose swivel bar stool with black coated frame and extra curved bucket seat, also made by Restaurant Furniture Canada. The fully upholstered bar stools have a deluxe padded seat and wraparound back in black vinyl. The bar stool's stiletto-like legs and leather like upholstery give the bar a prestigious, upscale look. Also included is a silver footrest for additional comfort. The black bar stools feel like they are at home sitting at the bar and compliment the overall interior design.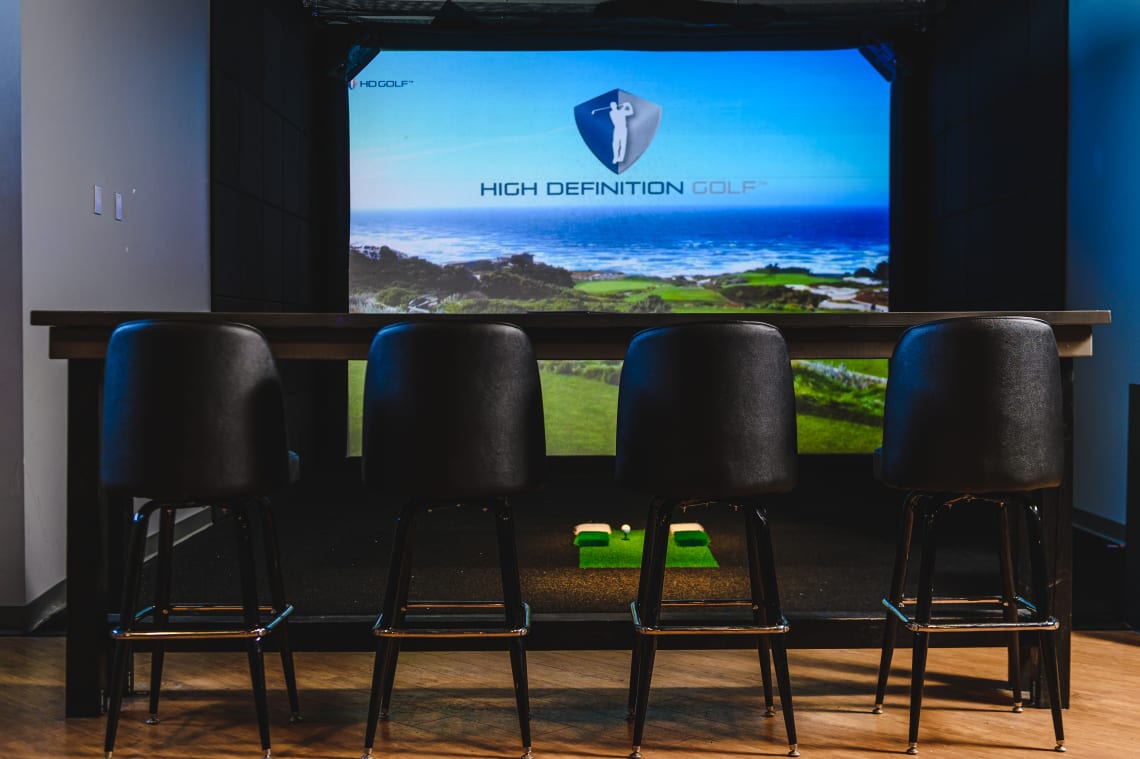 Products Relates To this Article