Oven 360 - Sarnia, ON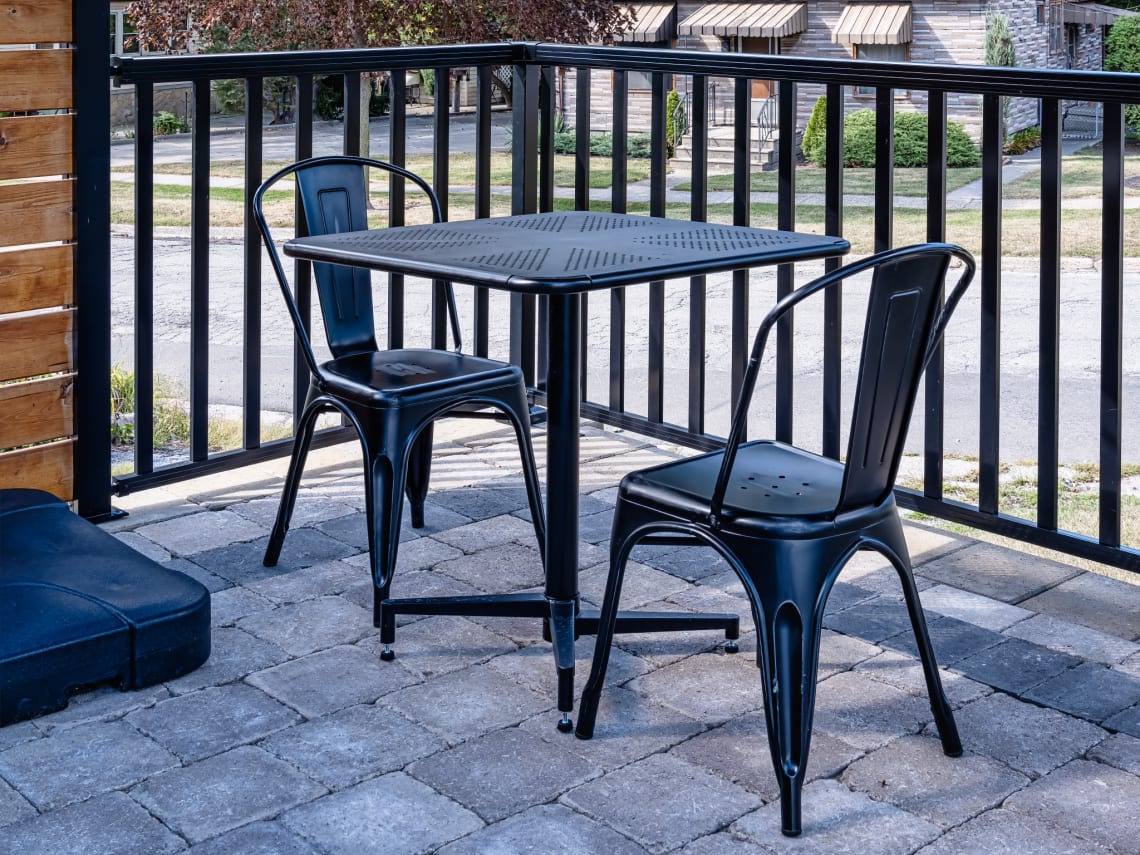 Located in Sarnia, Ontario, Oven 360 is known for its authentic Italian style pizza. In addition to their signature pizzas they also serve paninis, salads, gelado and alcoholic beverages. What started by Italian chef Remo Tortola and his childhood friend Lucio Franceschelli, ven 360 has quickly become a family favorite throughout southwestern Ontario because of the unique pizza experience.
Urban Design
Oven 360 has an urban design that gives it a distinct flavor. The exterior has gray brick wall and large vertical shaped windows to let in natural light. The interior features acid washed concrete flooring, exposed brick walls and corrugated tin lining the walls for the bar seating and the order counter. Large glass dividers separate tables to help reduce noise while still keeping with the open look and feel. Walls also have large, expanded black and white photos of Italian landscape. There is also a large patio for outdoor seating, when weather permits.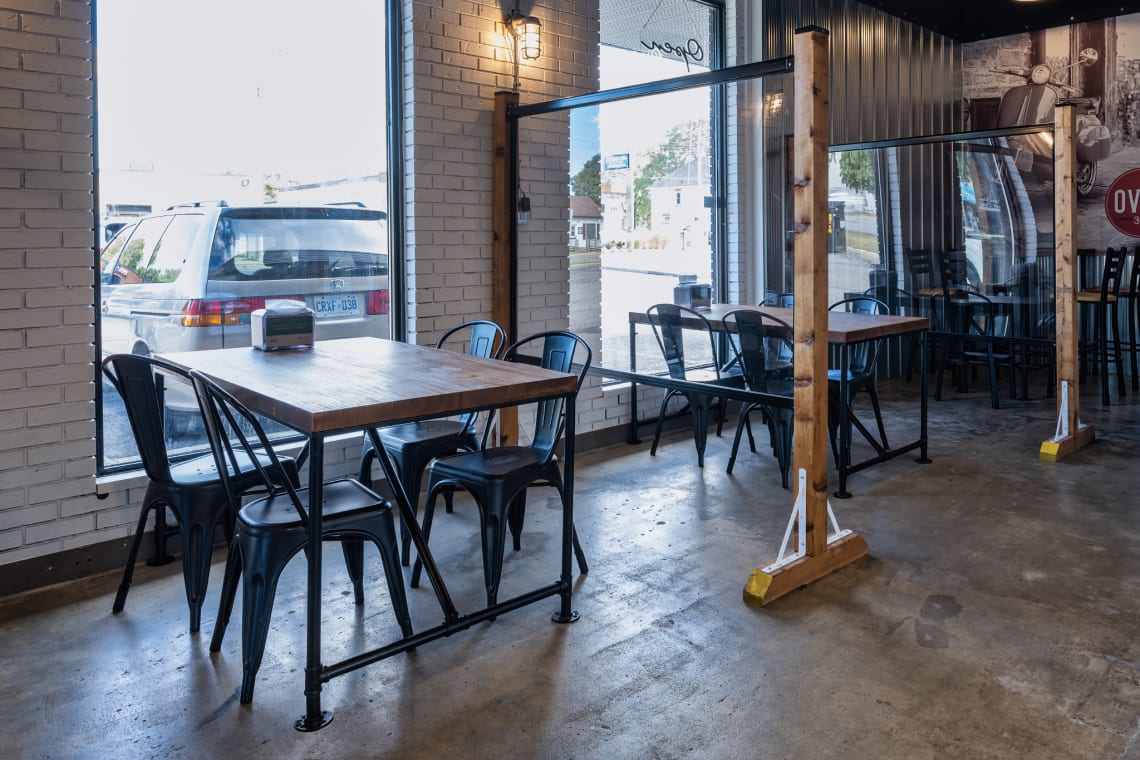 The main dining area is lit by large windows and industrial lighting with factory style hanging lamps and traditional incandescent weather Industrial wall lights. For seating, the owner chose bistro style metal chairs from Restaurant Furniture Canada. He chose distressed back finish which went well with the industrial motif and the black ceiling. They also add authenticity and help create an urban feel while also providing durable, comfortable seating. The black metal chairs are also great for outdoor seating and match the black table legs. Industrial style chairs were a natural choice to fit in with the overall decor.
To go with the bistro style metal chairs Oven 360 bought Industrial Series Pinewood Table. The table top was ordered in walnut finish, with a reclaimed look that fit in with the industrial decor.. The tables come with pipe shaped legs in black finish that go with the black bistro style chairs. The pinewood table top also has a rustic charm that fits in well with the restaurant's Italian theme, creating a harmonious balance between the urban decor and the Tuscan photos portrayed on the walls.
Industrial Tables with Modern Bar Stools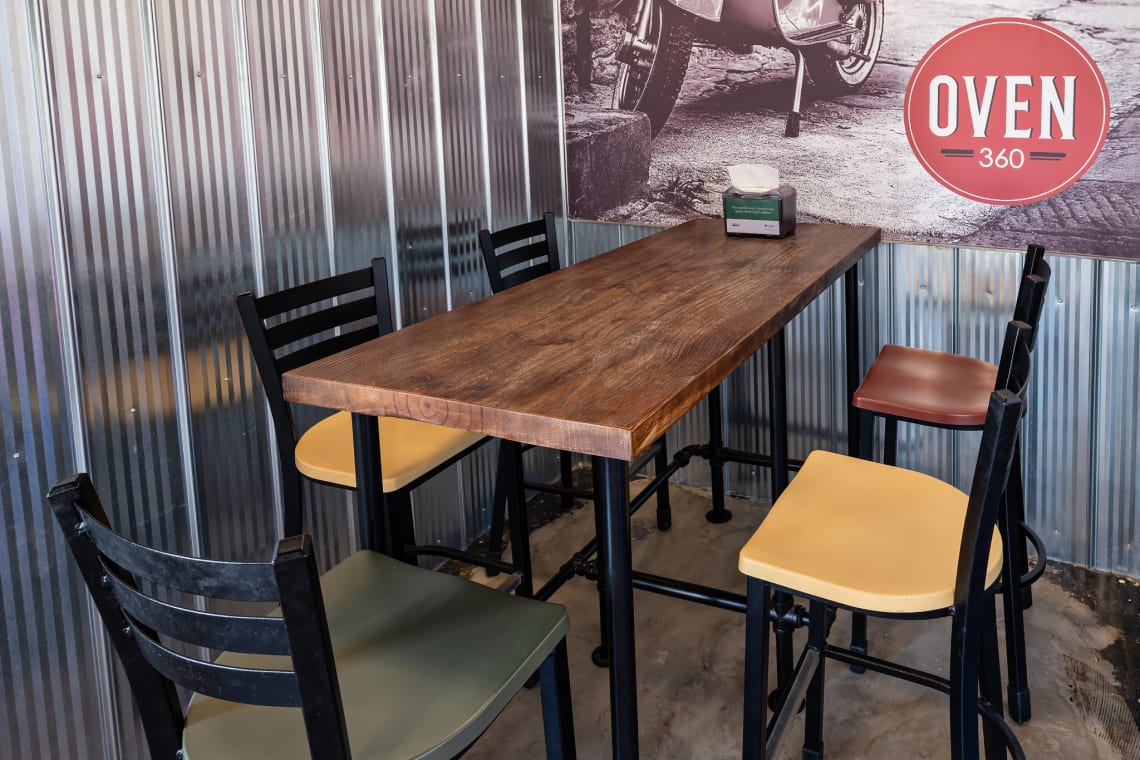 Oven 360 also purchased bar height Industrial series pinewood tables also in walnut finish with reclaimed look with stove pipe shaped legs in black finish and reclaimed look for the bar seating area.The bar height tables match the tables in the dining area creating a feel of continuity. For seating, to go with the tables, ladder back bar stools in black frame finish were also chosen. Ladder back bar stools are very popular for their versatility and flow well with the interior design.
Cohesive Look for the Patio
The restaurant has a large patio for outdoor seating when weather permits. The owner chose bistro style chairs in distressed black frame finish for the patio area as well. The industrial style chairs look great outdoors and match the black brick wall and blend nicely with the gray cobble stone floor. They are also a great option for outdoor seating since they are fully weatherproof and have drainage holes in the seat. To go with the chairs, metal folding tables in black frame finish were ordered and were also supplied by Restaurant Furniture Canada. These tables match the bistro style chairs, creating a cohesive look, and also have drainage holes so they can be left outdoors in any kind of weather and also fold for easy storage. The tables come with an attractive base in matching finish.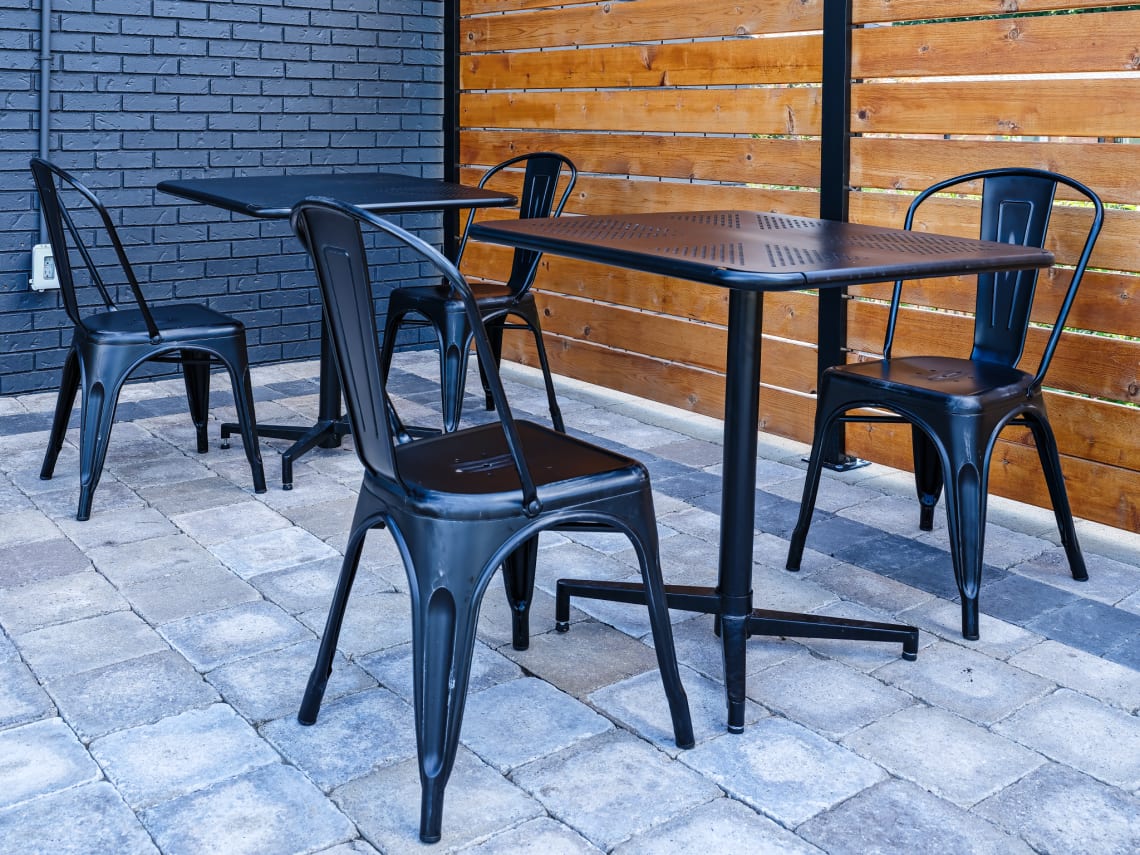 Restaurant Furniture Canada was happy to help Oven 360 by supplying it with quality, industrial style commercial furniture. Everything from the bistro chairs and Industrial series tables were a perfect match for the urban motif they were going for. Oven 360 is popular for their commitment to quality and their purchase of high grade industrial furniture reflects this.
Products Relates To this Article