Taste of Egypt - St John, NB

Located beside King's Square, Taste of Egypt serves popular Mediterranean cuisine. They serve popular dishes such as beef moussaka and shish-tawouk as well as delicious deserts such as baklava, coconut cakes and honey cakes. Get your meal started with delicious Strawberry colada, piña colada or wine. Great chocolate frappe, fruit tea or iced green tea are among the most popular drinks at this place.
Uniquely Themed Restaurant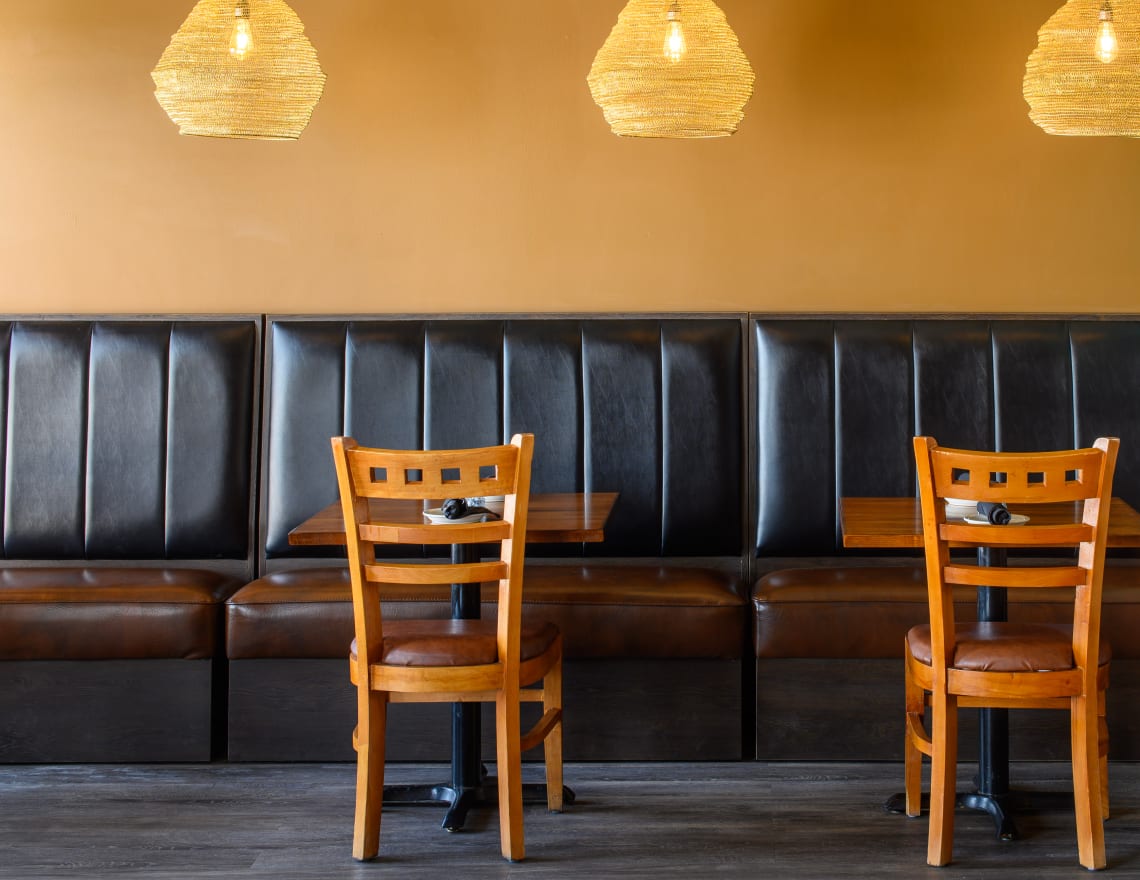 You will certainly like the charming atmosphere and divine decor which makes you feel like you are in a pharaoh's palace. The interior features walls painted in the color of golden sands and there are unique hanging lamps lighting the perimeter which look like shimmering gold cocoons. There are many Egyptian replicas such as statuettes of a sphinx and a pharaoh's head and the wooden seat dividers are carved with hieroglyphics and coptic symbols. Dividing the booth seating are hanging linens in Mediterranean turquoise color and the ceiling is draped with flowing black sheets. Everything is designed to create an ancient Egyptian look from the Egyptian artwork and artifacts to the cups and saucers used for coffee.
Seating in the Lap of Luxury
Ehab Radwan, the owner of Taste of Egypt turned to us at Restaurant Furniture Canada to help furnish his new restaurant. For seating, he chose the Custom Laminated booth with buckskin vinyl upholstery for the seats and black vinyl for the back. The deluxe custom booths have guests sitting in the lap of luxury with a wood box and frame in walnut finish. He ordered the booths in U shape, half booths to give guests plenty of room. With their buckskin and black upholstery, the booths fit in perfectly with the rest of the decor and help create an authentic Egyptian look.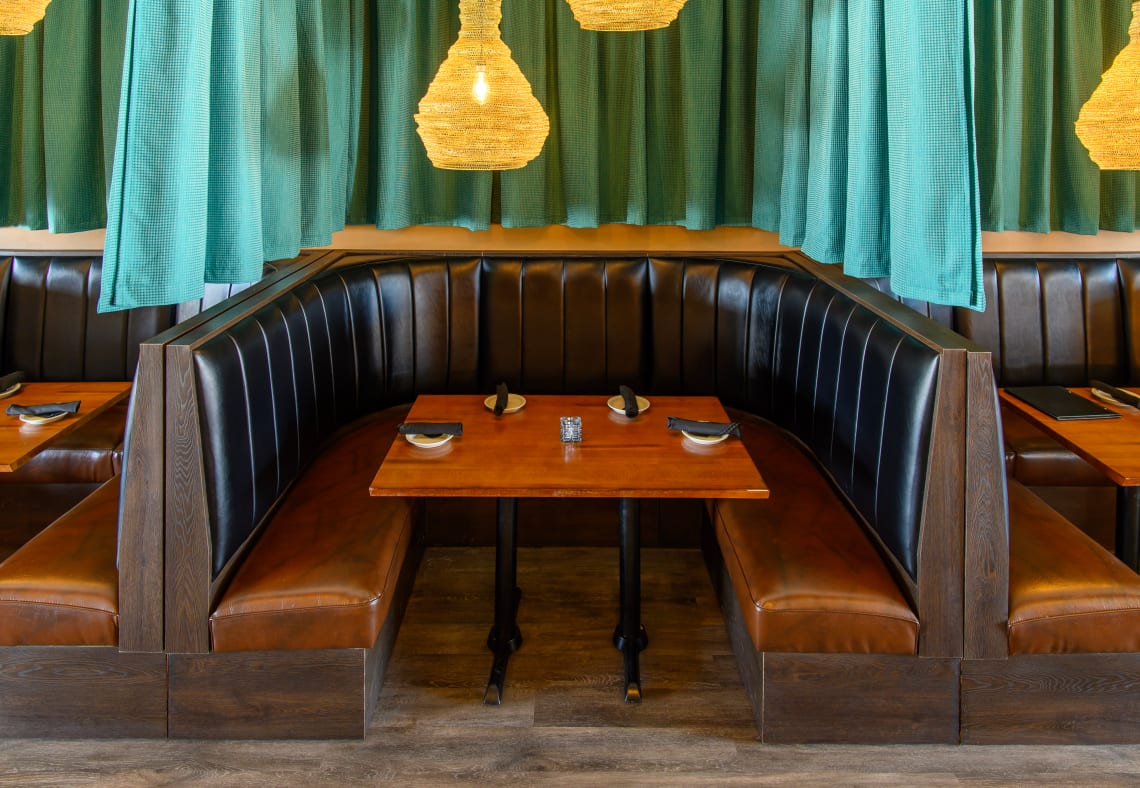 Completing the Look
For additional seating, Ehab has wood restaurant chairs in walnut finish and buckskin upholstery to match the booths. The commercial chairs were not sold to him by us, but we have a similar US made solid wood chair. Completing the look, he also ordered solid wood table tops in walnut finish to match the chairs and booths. We also carry similar solid wood tables in 1.5" thickness that are available in walnut as well as several other wood finishes.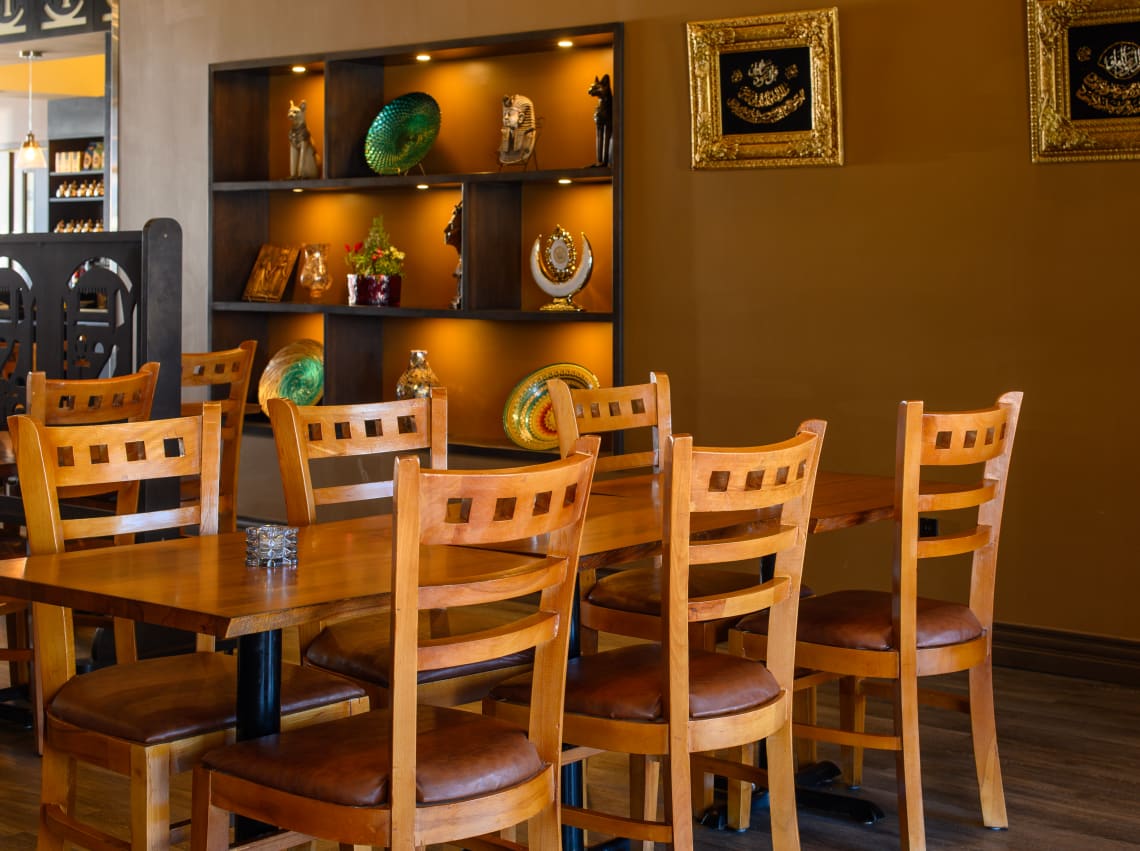 Products Relates To this Article