The Blockhouse - Sault Ste. Marie, Ontraio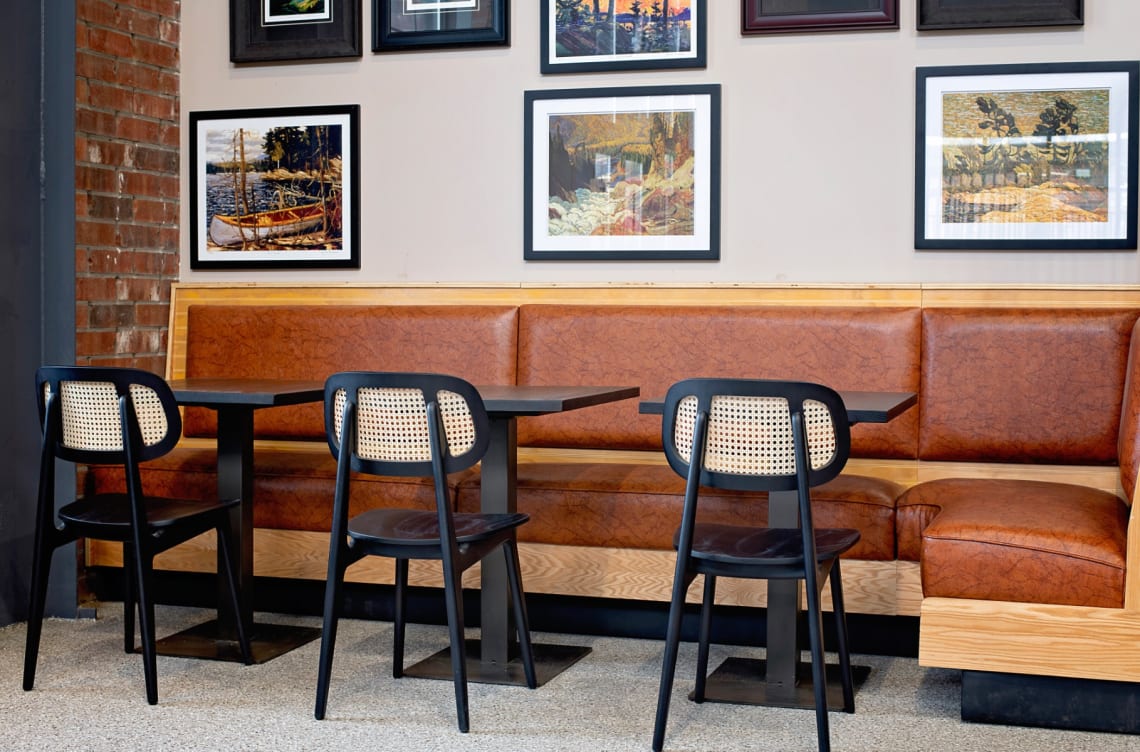 The Machine Shop is a historic venue that is home to The Blockhouse Pub, The Mill Steakhouse, The Wine Bar and The Boiler Room. Located in Sault Ste. Marie, Ontario in the Canal District, these restaurants are housed in a building that was constructed with local brick which was distressed to give it a vintage look and feel. The historic site has its roots as a fur trading post, part of the Northwest Company. The renovated building was built in a way to preserve the heritage of the site while including the comfort of modern amenities.
Upscale Industrial Design
Keeping with the tradition of the site, the Blockhouse Pub has a distinctive industrial look and feel. The interior features exposed brick walls and the remnants of the outer stone wall which dates back to 1819 have been preserved. The interior has all the hallmarks of classic industrial interior design with exposed brick walls, stone flooring, exposed ducts and high ceilings. Large windows, both in square metal frames and in larger sections by the entrance let in plenty of natural light and add to the industrial look and feel. The large windows have a double purpose of lighting and offering views of the beautiful natural landscape outdoors.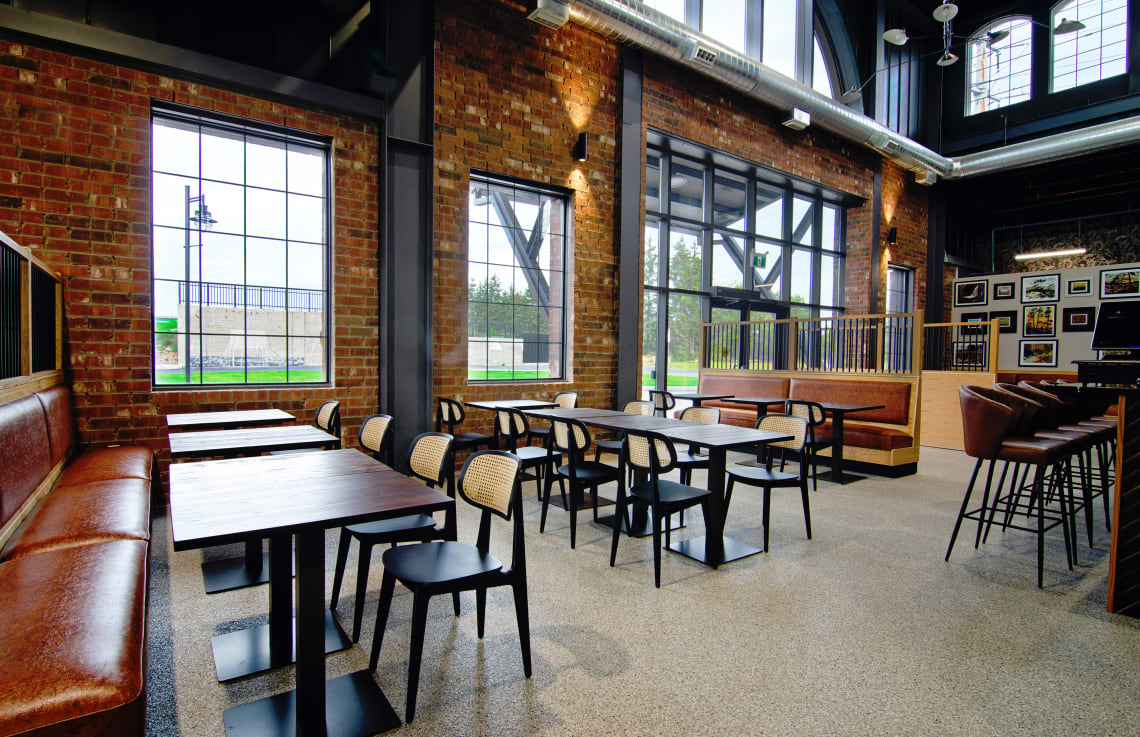 The owner contacted our experts at Restaurant Furniture Canada to provide commercial furniture when the time came to renovate the historic building. For the Blockhouse Pub, the main seating chosen was Cane wood industrial chair with black frame finish. The chairs are expertly crafted with a mesh back and a solid wood frame that have an authentic industrial look. To go with the chairs, he ordered industrial series restaurant tables with solid wood table top in walnut finish. The table set comes with a metal base in dark gray finish that flows perfectly with the industrial motif. They were also the perfect accompaniment to go with the cane wood chairs.
Industrial Tables with Modern Chairs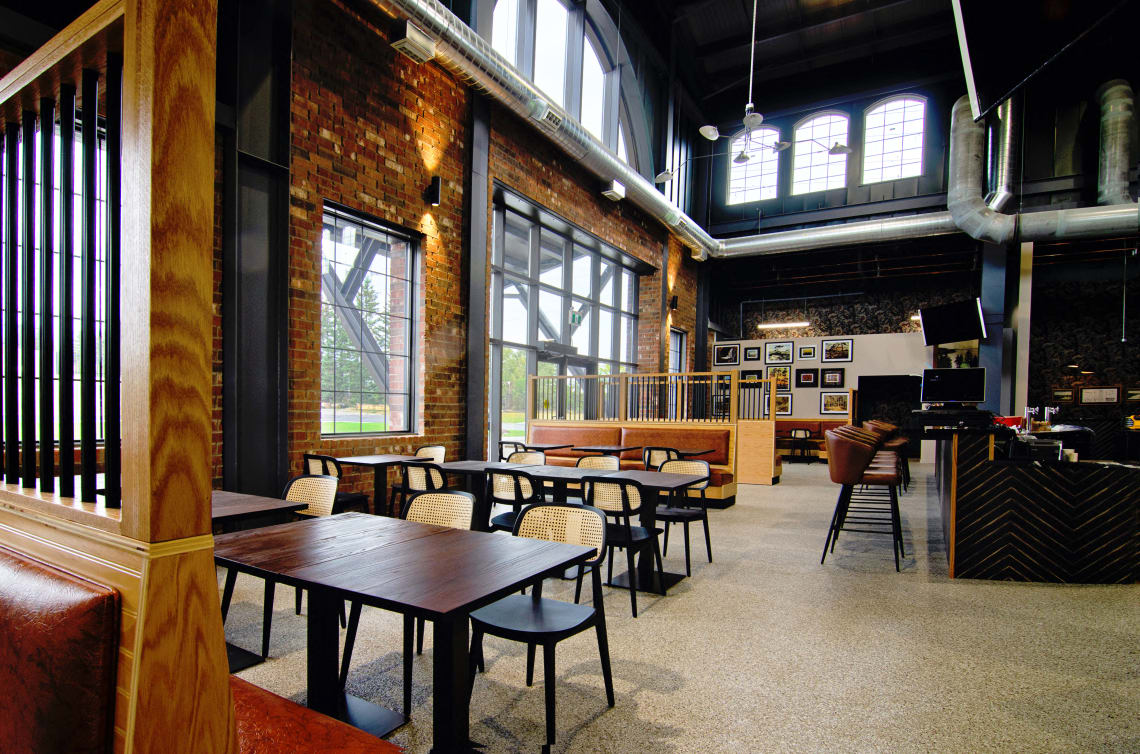 For additional seating, booths were also ordered to be used as half booths, corner booths and wall benches in combination with the cane wood chairs. The DH Style laminated base with semi padded back in spicy brown, vinyl upholstery also add to the industrial look and the overall decor. They are also a great fit to go with the industrial style tables and provide comfortable seating. The vintage look of the booths blends in perfectly within the historical site.
The pub also has a traditional solid wood bar with early 20th century decor. For bar seating, the owner chose our Deco Style restaurant bar stools with brown upholstery that closely matches the booths and chairs. In keeping with the early 20th century look, the bar stools have a deco style wraparound back that is both functional and adds beauty. They were the finishing touch to add sophistication and class to this historic venue.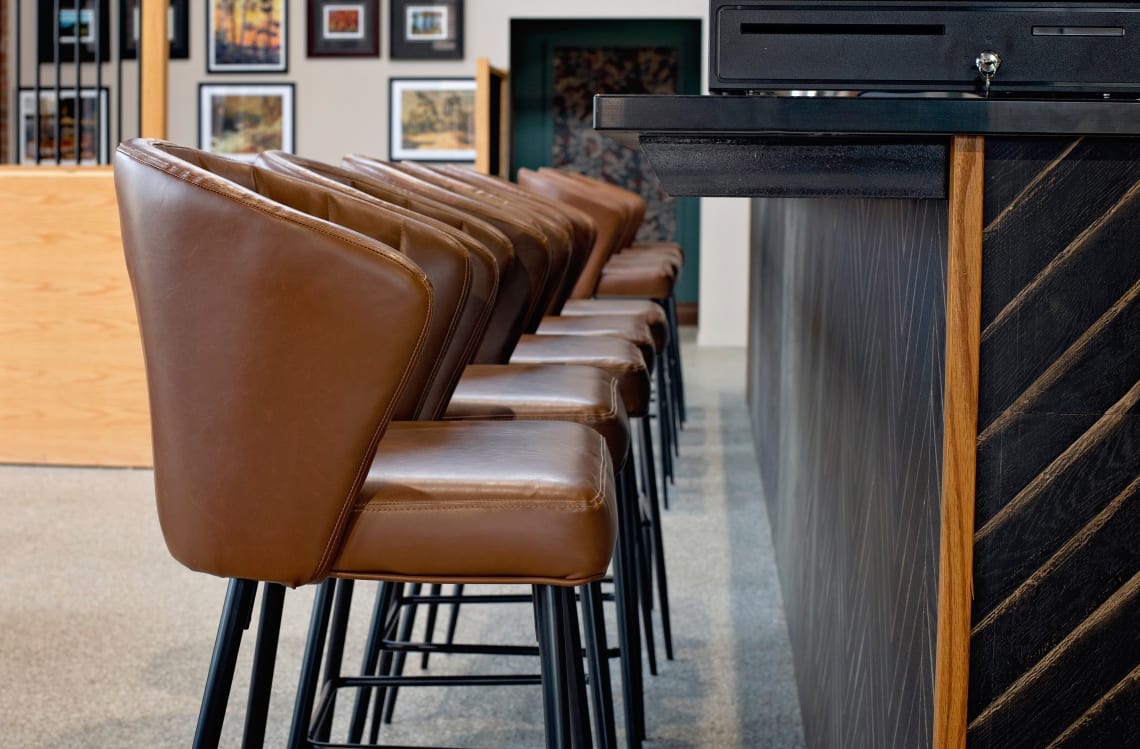 Products Relates To this Article